Lake, Polk, Sumter, Pasco, and Hernando counties and their cities, development interests have successfully petitioned for land use changes, that allow urban developments and roads in the Green Swamp Area of Critical State Concern at densities and intensities that threaten the continued viability and functioning of the Green Swamp Ecosystem.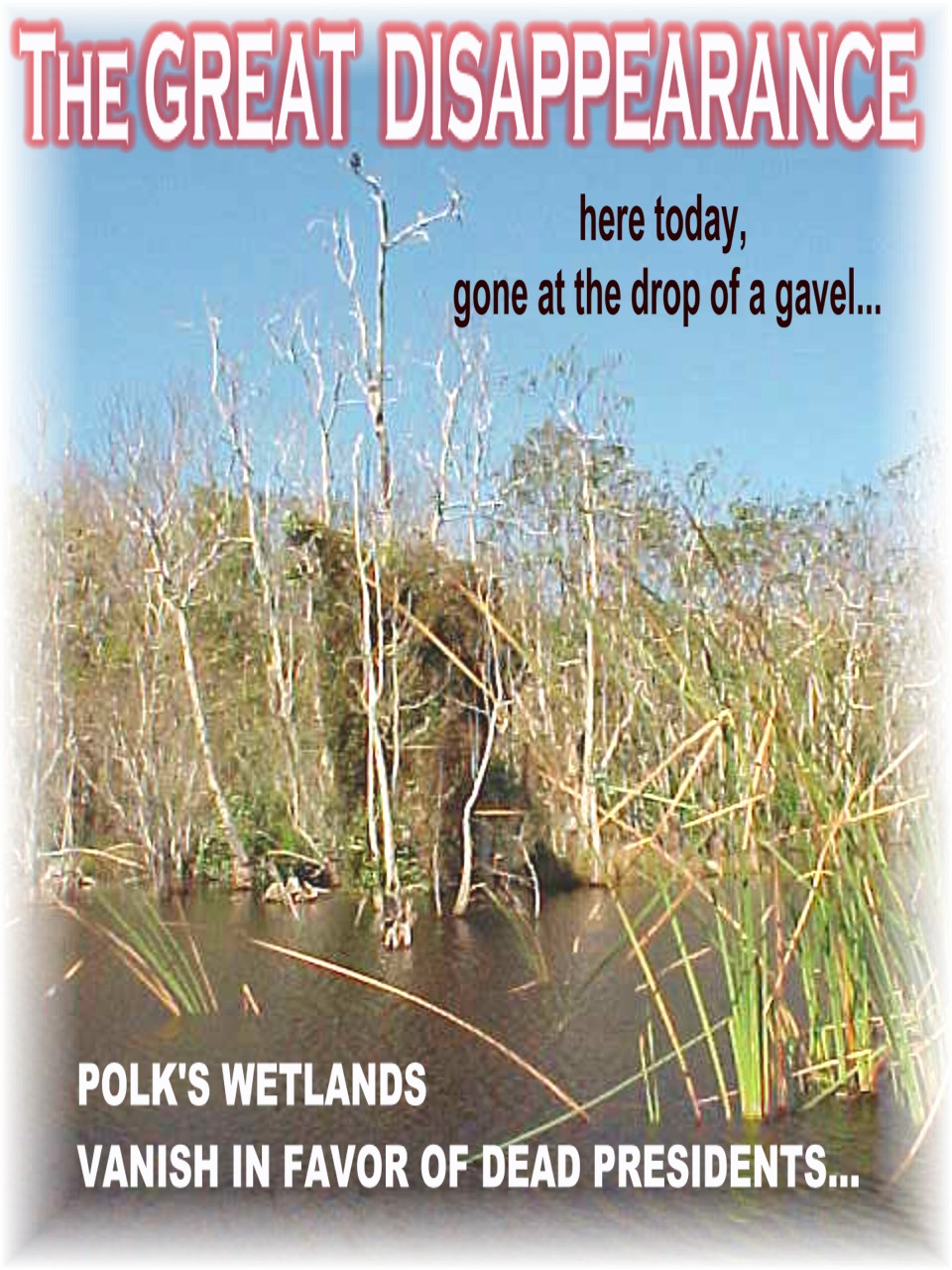 Lake Mattie wetlands shoreline

This natural community supports populations of an estimated 330 species of wildlife and nearly 400 species of plant life. Among this population are more than 35 threatened species or endangered species, including the Florida Black Bear, Florida Scrub Jay, Wood Stork, and Florida Panther. Widespread species such as white-tailed deer, bald eagle, wild turkey, alligators, bore, and numerous songbirds and wading birds are also present. Habitat loss at record numbers put each of these species in precarious positions. Lake Mattie and the Green Swamp provides serenity and seclusion for quiet observation and study of a variety of plants, mammals, birds, reptiles, fish, invertebrates, and amphibians within the natural landscape. At one time, Florida's wetlands were all but given away in order to promote development. Today, with a tremendous knowledge of the importance of these fragile Eco-systems, organizations and the state try to save these lands, but developers have the commisioners on it's side. The increase in populations and a booming building industry pushes developers to subdivide these naturally sensitive lands because they sell consumers on owning a small tract of natural beauty. In fact they are destroying exactly what they sell. Ever notice how subdivisions are named after what they replaced? Small tracts with well manicured lawns and sandy beaches are not natural here, and are detrimental to the ecology of the area. This is the new crime of the century. Minimum 10 or 20 acre lots with 50% natural growth is far closer to the truth of what the developer is trying to sell than what they acually sell. We cannot count on the commisioners who value every development in "the amount of dead presidents it generates yearly", to stop the destruction. The citizens must take on the fight and fight hard to preserve our natural resources.
Call 863-534-7600 ext 273
Board of County Commisioners recent meeting agenda.
Petitioned by Walker Groves Inc. Jere Stambugh owner to change state development guide for land development in "Green Swamp area of Critical Concern" from Agricutural / Low Residential to High Residential / Suburban
Vote: 6-0 in favor
Land in question: 88 acres of criticle swamp habitat on the east side of Rt 559 south to Cone Rd. (Plan calls for a very small portion to be used as preservation land, the remaining to be developed high density. Saving a small portion of the land for preservation is a ploy used by property owners and developers to increase density on larger portions of the land)
Polk County BoCC web site and hearing results:
NOTICE: APPROVAL OF ALL DEVELOPMENT PLAN ADMENDMENTS TO AREAS WITHIN THE "GREEN SWAMP AREA OF CRITICAL CONCERN"
comment made by your Polk County Board of Commisioners President
when a citizen brought to the boards attentions that an eagles nesting site
was in a tree on the property they were holding a public hearing for on Juliana's north shore.
"This eagles nesting site is of no concern to this board"

WHAT CAN WE DO TO STOP THE DISTRUCTION?
1. Speak out ! Contact board members, go to hearings and voice your opposition to over development. MAKE SOME WAVES.
2. FIRE THE COUNTY BOARD. Elect environment minded members to the board. Elect board members that have no personal business with development.
3. Boycott business' that pillage the land for profit.
4. Contact your state environmental agencies and non- profit organizations to change existing rules and increase preservation lands in critical areas. Whats the pupose of "state areas of critical concern" if county boards can over rule them each and every time?
5. Support redevelopment practices not new development of agricultural and wild lands.
6. Support organizations and business' that help the fight against habitat distruction.
REMEMBER, THIS IS AMERICA AND YOU HAVE A VOICE. IF YOU DONT SPEAK OUT, SCREAM AND SHOUT, AND FIGHT FOR YOUR RIGHTS, YOU LOSE!